Father God
For many people, one of the hardest concepts to grasp is knowing God as Father God, especially for those whose earthly fathers have fallen short.
Growing up, I never worried when I got up in the morning that there would be food in the refrigerator, hot water for a shower or lights to get dressed by. Not having the basic necessities was never a thought that crossed my mind. Never a worry. Never a concern.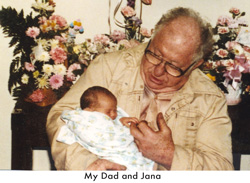 My dad was bigger than life. He was physically big. He laughed big. He talked loud. When he was in the room, you knew he was in the room. He could fix anything around the house. He always said – if there is a problem – there is a solution. He was dependable. He was reliable. He was present. He loved me. Always. Unconditionally. So I just have never had a problem thinking about God in the terms of being my Heavenly Father.
This might not be the case for you. Maybe you don't even know your father. Maybe he abandoned your family. Maybe he drank too much. Yelled too much. Abused you instead of loved you. Never reached out to you when you needed him to reach out to you. Held you when you needed to be held. Maybe you were fearful of him and his wrath. The word "father" to you is a curse word.
I will tell you this day that you cannot have a true relationship with God without thinking about Him in terms of being your Heavenly Father. He is the perfect father. He is dependable. Reliable. Present. Faithful. Loving. Good – all the time. He knows you and loves you unconditionally. Not for what you do, but for who you are . He wants the best for you. He is your safe place. He is your greatest cheerleader. He forgives instantaneously. He never keeps a record of the wrongs. He is always rooting for you to become the best you.
My prayer for you this day is that Father God will heal those areas of hurt and disappointment caused by your relationship with your earthly father and see that His arms are wide open – they are big and safe and always available. You are the apple of his eye. He dances over you. He delights in you.
Run into those arms. You are his son. You are his daughter. He will never leave you. He will never forsake you. No matter what. He said so. He does not lie. When he makes you a promise, you can take it to the bank.